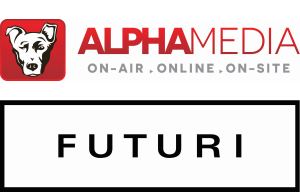 Media software company Futuri is announcing today that broadcaster Alpha Media (227 radio stations in 49 U.S. markets) will use Futuri's suite of audience engagements products. They include:
POST: It instantly turns broadcasts into on-demand audio and distributes it online.
Alexa Skills: Specialized interactivity for the Amazon Echo line of Alexa-powered smart speakers.
TopicPulse: A story discovery tool that analyzes a range of sources and social media platforms to determine trending topics.
Alpha Media is a fast-growing, diverse media company, and it's a privilege to extend their brands' reach and engagement as their technology partner," said Futuri Media CEO Daniel Anstandig. "Marrying Alpha Media's content and local media expertise with Futuri's audience engagement technology gives their brands reliable, real-time consumer intelligence and distribution on multiple key platforms, like smart speakers. We look forward to powering their programming innovations."
Alpha Media CEO/President, Bob Proffitt said this: "I was impressed by Futuri Media's commitment to training services, round-the-clock support, and ongoing consultation. They understand the industry and how to engage fans of every demographic."