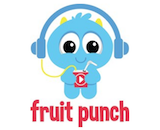 Fruit Punch Music is a new subscription streaming service billing itself as "Spotify for kids." The iOS app is focused entirely on children and family-friendly programming, promising a multipoint approval process to vet content. The platform offers a variety of genres and time periods, offering artists from Taylor Swift to The Temptations. Parents can opt for additional controls, such as setting daily time limits, blocking stations, or blocking genres.
The ad-free, unlimited music service costs $3.99 per month of $24.99 for a year-long subscription.
The service is offered by Fruit Punch Inc, which provides music services aimed at children from pre-kindergarten to age 8.