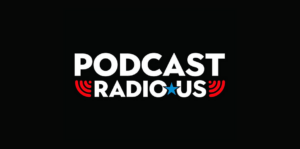 Podcast Radio, the UK-based non-interactive all-podcast radio outlet, has announced a major expansion into the U.S. radio market. Four companies combined to make this initiative a reality.
Beasley Media Group, KMG Networks, and AdLarge Media are the key partners in this trans-continental breakthrough.
The initial rollout sees four regional placements of Podcast Radio:
Detroit: 93.5 FM and WCSX-94.7 HD2
Tampa: 1010 WHFS-AM
Charlotte: 94.7 FM and WSOC-HD3
Ft. Myers / Naples: 96.5 FM/101.5 FM & 105.1 FM and WXKB-HD2
"Podcast Radio is an idea that Caroline Beasley and our team have been thinking about and researching for years and we're excited to be the first to launch this format in the United States," said Beasley Media Group Chief Content Officer Justin Chase.

"KMG and Podcast Radio is excited to partner with Beasley Media Group to be the first to bring this proven and innovative idea to the U.S," said Gary Krantz, Founder & CEO of KMG/KMG Networks. "When we evaluated the business opportunity in America, it was their forward-looking team that shared our vision immediately and stepped up to work collaboratively to execute this across key regions within the Beasley Media Group platform."

"This collaboration underscores AdLarge's commitment to delivering exceptional advertising solutions to our clients," commented Cathy Csukas, AdLarge CEO. "We are poised to unlock new opportunities for advertisers, enabling them to reach their target audiences through premium content."
The Podcast Radio format will be offered to other stations and groups on a "network/barter basis," according to the announcement.
The fourth leg of this stool is the podcast advertising company AdLarge, which is positioned to handle sales.
Meanwhile, on the U.S. Podcast Radio website, all four stations can be streamed, and there is some interactive podcast discovery there as well.
---