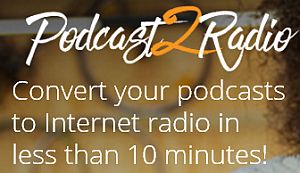 Podcast2Radio, a new service launching from a partnership of venerable Internet broadcaster Live365 and podcast host Blubrry, will formally go live tomorrow (Tuesday, December 8). We spoke with Rae Palermo, Senior Executive of Business Development and Content Strategy at Live365, about the product and its mission to grow audience for podcasters.
Podcast2Radio, as the name implies, puts a creator's podcast programs into an Internet radio stream, on Live 365 and a launch portfolio of partner distributors that includes TuneIn, Internet Radio Directory, Windows Media Guide, Apple TV, Fire TV, Roku, Sonos, and Aha Radio. Podcasters pay a monthly subscription fee to submit shows and/or excerpts of shows. Those submissions, which can be updated with new content at any time, become an Internet radio station of the podcast.
"It's about distribution and discovery," Rae Palermo told RAIN News. She noted that Internet radio is a largely unrecognized distribution category to many podcasters, which might be partly because services that connect the download model of podcasting with the streaming model of online radio are scarce. "We are explaining the advantages of the lean-back audio experience," Palermo said. "Some get it, and some resist it."
Podcast2Radio is uniquely an open platform that any podcast creator can join to distribution radio streams of their show. If creating a streaming station is a conceptual leap for podcasters, other recently launched ventures could promote the idea to the benefit of Podcast2Radio. Pandora recently partnered with hit program Serial to present seasons one and two on Pandora. Podcast host Spreaker just launched Spreaker Podcast Radio, an app which curates selected podcasts for radio-style listening.
The Live365/Blubrry initiative launching this week flings wide the doors to creating a podcast radio channel. Any podcaster may sign up, and Blubrry's 35,000 customers get favorable pricing by signing up at blubrry.fm. Discoverability and distribution are the key assets for Blubrry podcasters, according to Todd Cochrane, Blubrry CEO. I am extremely excited about the additional distribution Podcast2Radio will bring Blubrry podcasters," he said. "Podcast2Radio instantly allows podcasters' content to be discovered by the millions of people who listen to shows via Live365 and their distribution partners. It also provides boundless opportunities to those who want to promote channels of podcast content."
The launch partnership pairs a preeminent Internet radio platform with a leading podcast platform. Rae Palermo also told RAIN News that other affiliates are in the works, with a handful of verbal commitments. "We wanted to work with Blubrry and do it right with them," she said. "Our wish is to work with all podcasting services that can leverage this to their benefit."
Podcasters who sign up with Podcast2Radio get an HTML5 player widget that can be embedded in websites. Live365 is also working with Nobex Technologies to create a mobile app for enrolled podcasters.
Network-building is a possibility with this platform. Rae Palermo expressed hope that podcast networks will leverage the service to create corresponding Internet radio networks. Blubrry is taking the lead on that, creating the Blubrry Radio Network — a curated collection of top podcasts sorted into categories like Tech and Health. "I love that they're doing that," Palermo told us. "It will set a precedent for other networks to do the same."
The formal launch of Podcast2Radio happens Tuesday, but podcasters can sign up now at Podcast2Radio.com.