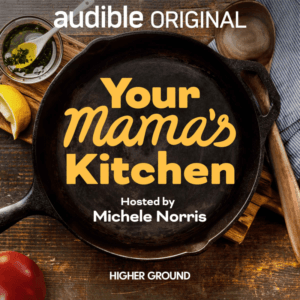 Acast announces a new podcast called Your Mama's Kitchen, spawned from the company's partnership with Higher Ground, the podcast company launched by Michelle and Barack Obama. Acast announced its sales and distribution deal with Higher Ground in April. This new show is the first result of that alliance.
The podcast stars Michele Norris, a Peabody-winning journalist perhaps best known as the ex-host of NPR's All Things Considered for nearly 10 years. She was also a journalist at Los Angeles Times, ABC News, and Chicago Tribune.
The interview-guest show explores the complexities of family life and how their earliest culinary experiences helped shape their personal and professional lives. The press release cleverly mentions "a delicious buffet of actors, authors, chefs, musicians, and more."
"Michele is one of the most well-known voices in podcasting, so we were eager to work with Higher Ground to help make these stories available to listeners everywhere," said Acast Interim Managing Director for the US Tiffany Ashitey. "In bringing 'Your Mama's Kitchen' to Acast, we have also been working with Michele and the Higher Ground team on creative brand campaigns that reflect the spirit of the show and the already incredible lineup of guests."
While guest confirmations are not supplied, Acast does mention Chef José Andrés, Broadcaster Gayle King, Kerry Washington, D-Nice, Matthew Broderick, Andy Garcia, and others — "many of whom will appear as guests."
Michelle Obama is the first guest, and that launch episode can be heard HERE.
---