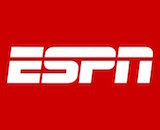 ESPN is making a preliminary announcement today of an upcoming new podcast, The ESPN Daily, which will launch in October.
Along with this advance bulletin from one of the world's most productive podcast publishers, is hooked into ESPN's disclosure that the company's podcast portfolio attracted 5.8-million listeners in June, a 10% year-over-year growth from June 2018. The press release notes that June is the sixth consecutive month of YoY listener growth.
Three programs are cited by ESPN as leading the audience growth: FiveThirtyEight: Politics, The Lowe Post and SVP & Russillo.
We queried ESPN whether the new show — whose title is irresistibly likened to The Daily from the New York Times, which is the #1 podcast in America according to Podtrac — whether The ESPN Daily — will be a morning news show. The polite response did not disclose any details, including whether it would be positioned in smart speaker news lineups. But we're betting on both.
Andy Tennant, ESPN's senior coordinating producer, will run the new show's production. His statement: "The ESPN Daily is going to be appointment listening for anyone interested in the world of sports. The show will be unlike anything now available in sports, anywhere, with stories, interviews and analysis that only ESPN can provide. Every day The ESPN Daily will take a deep dive into a specific event or issue in sports, using ESPN's unmatched resources and deep roster of reporters, producers and commentators."
That sounds directly influenced by The Daily and seems like a smart bet.