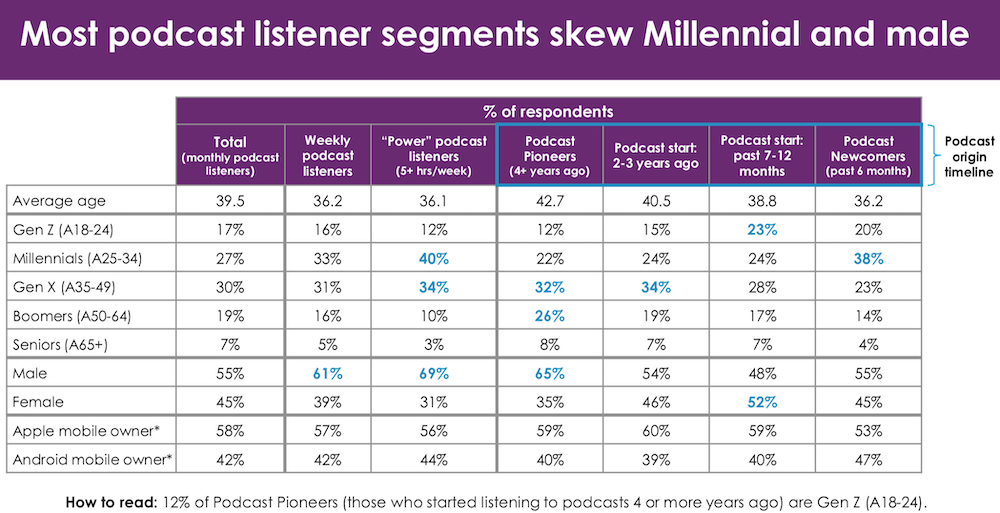 Westwood One has teamed with Audience Insights and MARU/Matchbox for an investigation into monthly podcast listeners in the U.S. Their survey included breakdowns based on how long the participants have been podcast listeners, with those who have been tuning in for more than 4 years classified as "podcast pioneers" while "podcast newcomers" only started the habit in the past six months.
The survey first shows a few general demographic trends. Across the general audience, monthly podcast listeners had an average age of 39.5 years old and 55% male. The gender balance tipped farther for more frequent listeners, with the weekly podcast audience 61% male and the power listeners (who log at least 5 hours a week) 69% male. Power listeners also trended younger, with 40% of that group falling between ages 25 and 34 and 34% aged 35 to 49. More than a third (35%) of the monthly podcast cohort qualify as power listeners.
Podcast newcomers posted the highest rates of daily listening at 38%. The average for all monthly podcast listeners was 25% for daily listening.
Monthly podcast listeners posted 7 hours, 9 minutes of average weekly time spent with podcasts. Power listeners' weekly time spent leapt up to 11 hours, 56 minutes. That works out to 6.2 average weekly episodes for the monthly audience and 8.8 average weekly episodes for power listeners.
The power listeners also showed more variety in their genres. The monthly audience regularly listens to shows in an average of 4.7 different genres, compared with 6 for power listeners. The podcast newcomer group was slightly more likely to have variety in their genre choice, leading with 4.9 average genres.
Comedy turned in a dominant performance as the most popular genre. It was the top choice for the total monthly audeince, for weekly listeners and power listeners, and for every group on the podcast origin timeline.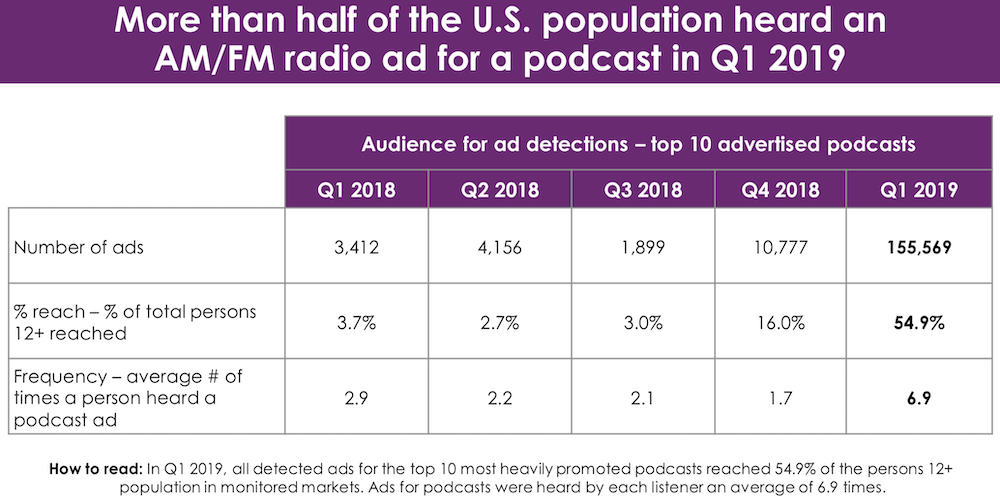 Radio has a role to play in podcast discovery. In the total audience, a quarter said they found new shows on the radio, while the podcast newcomers showed a much higher rate of 31%. More than half (55%) of Americans heard an ad for a podcast on AM/FM radio during the first quarter of this year. The report found 106 unique podcast advertisers on AM/FM radio in Q1 2019, leaping up from only 11 in Q4 2018. Frequency of hearing podcast ads on terrestrial radio also more than tripled from 1.7 times in Q4 2018 to 6.9 times in Q1 2019.
The report also examined listeners' preferences for distribution platforms. Monthly listeners use an average of 2.7 different platforms to tune in to podcasts, and 1.7 platforms frequently. The power listener group uses an average of 3.8 platforms and 2.6 of them frequently. Newcomers helped drive up the averages, using 3.5 platforms on average and 2.3 platforms frequently.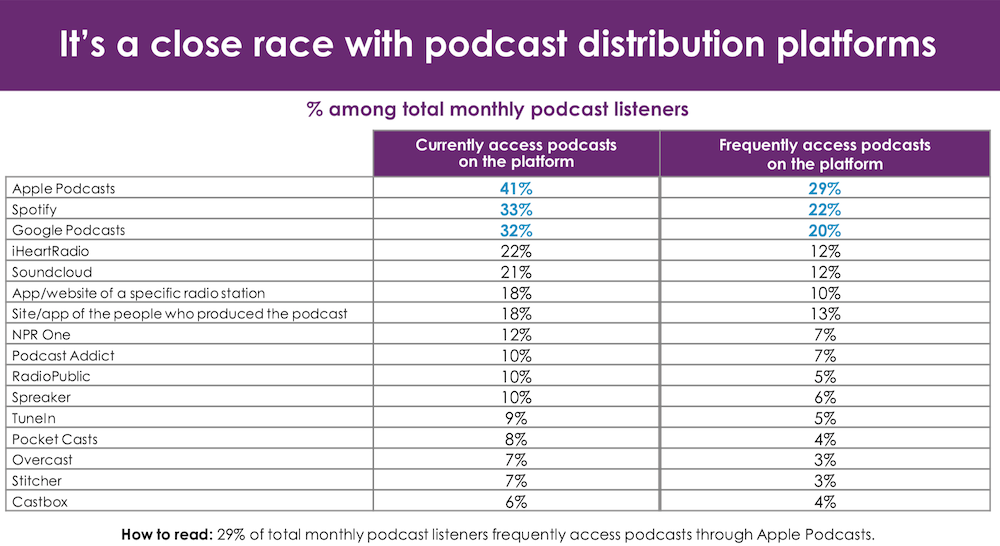 Apple Podcasts was the leading platform for this survey, with 41% of respondents currently using it to listen to shows. But Spotify and Google Podcasts were close behind with 33% and 32% responses, respectively.
The podcast pioneers were most likely to rely on Apple for their shows, with 33% using it frequently and 59% frequently using non-Apple options. The trend flipped for newcomers, with 29% reporting frequent use of Apple and 75% frequently using competitor platforms. A breakdown of their choices showed that 40% of podcast newcomers access their shows on Apple Podcasts, followed by 39% on Google Podcasts, 35% on Spotify, and 28% on SoundCloud.