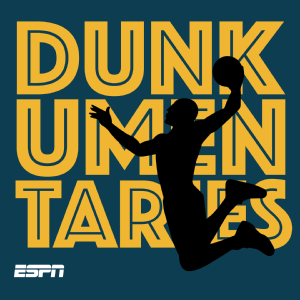 There are a lot of high-profile sports podcasts, the big hits anchored by celebs — e.g. The Big Podcast with Shaq. ESPN is trying something new with a documentary series, while taking a page from the Netflix playbook by releasing all five episodes at once. A five-part series on the history of the basketball dunk, called Dunkumentaries, launches today. (Program page here.)
A range of personalities has been promoted in advance of the series drop, including reporters, other podcasters (99% Invisible host Roman Mars), author Charlie Rosen, and players Leo Rautins, Jerry Harkness, Cory Joseph. Georgeann Wells, and Tristan Thompson.
If the topic doesn't seem to warrant the elaborate treatment, ESPN hopes to drive listening with a series description that emphasizes both history and fun: "The show will look at how DEE BROWN's performance at the 1991 NBA All-Star Game Dunk Contest impacted the sneaker business, the first dunk by a woman in college basketball and the discovery of tape of the shot 25 years after it happened, and the issue of whether creativity in dunks has run its course." We didn't know the creativity of dunks was an issue.
"The slam dunk continues to awe fans on an almost daily basis," said ESPN Films producer Ryan Nantell. "We've all got our favorite dunks and dunk contest memories.  We wanted to take a closer look at the impact of those memories and the personalities connected to them."
Dunkumentaries joins a slate of over 30 podcasts.