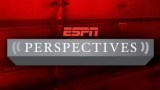 ESPN Audio has started a new section called ESPN Perspectives, leveraging the growing podcast category while extending its iconic sports brand with longer-form focus on in-depth audio journalism.
"In-depth storytelling, unique angles, provocative conversations." –Marketing tagline for ESPN Perspectives.
Three new programs inaugurate the Perspectives line: "Capital Games" (hosted by Andy Katz and Rick Klein), "Inside Out" (Prim Siripipat), and "SportsBiz" (Darren Rovell). We listened to SportsBiz, and were impressed by the audio quality, content quality, and depth. The episode includes conversations with Steven D'Angelo, owner of '47 Brand and participant in "Boston Strong"; a representative of the Boston Ahtletic Association; and Mikal Peveto from Aditas.
The new line of shows launches on the one-year anniversary of the Boston marathon terrorist attack. See the ESPN Perspectives here, and the SportsBiz show here.