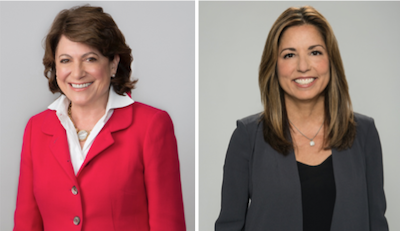 Entercom Communications announced a big change in its C-suite leadership. The media and entertainment company's Chief Operating Officer Weezie Kramer will retire later this year. She will be succeeded by Susan Larkin, who will assume the COO post effective May 5.
Kramer will remain the business' COO until the transition date, then will act as a senior executive advisor to Chairman, President, and CEO David Field for the rest of the year. She will also join the board of directors upon retirement. Kramer has been with Entercom since 2000 and became COO in 2014. Kramer deferred her retirement when Entercom and CBS Radio merged in 2017.
"I look forward to serving on the board and ensuring that we have a seamless leadership transition while still working on projects that matter to the company and our team," said Kramer. "I know that I am leaving the business in great hands with Susan. I am excited to see the next era of innovation, growth and success as we work towards our mission to build the future of audio."
Larkin is currently the market manager for Entercom New York and regional president overseeing other markets. The company is engaged in a search for a replacement for that post.
"This is an exciting time for Entercom, and for all audio media," Larkin said. "I am thrilled to be part of Entercom's forward-thinking strategy as we continue to set ourselves apart as the best operator and creator of audio content in the U.S. and realize the value of our engaged impressions with advertisers. Weezie has been an incredible mentor and the best leader I could ask for. I am honored to work with such a strong team and excited about the next phase of Entercom's continued growth, expansion and strategic vision."