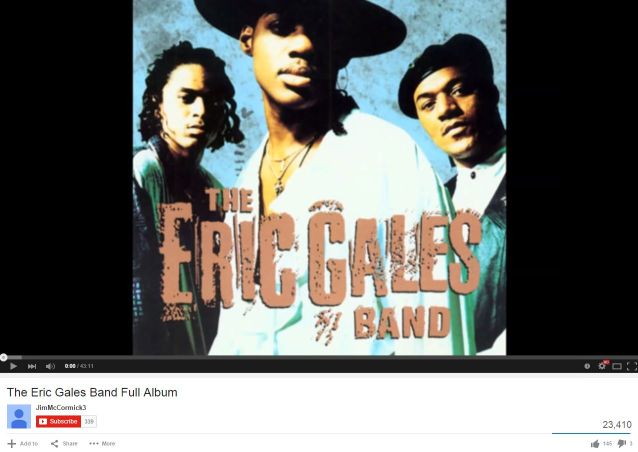 First of all, I don't listen to albums. I don't have a CD player except in my 2001 car. I have never downloaded an album from iTunes. I am neck-deep in streaming audio and playlists. I have dozens of personalized Internet radio stations, and when I hear songs I like, I use music-tagging apps to bookmark them. In the subscription services I burrow into on-demand discovery trails and build libraries of tracks.
So "Album of the Year" is an alien assessment to me. But this year I've got one, and it's because of YouTube's new subscription service, Music Key.
I've been listening to blues-rock guitarist Eric Gales for years. This particular artist lives mainly in my Rhapsody account, where I have extensive blues-rock playlists. But in Rhapsody (and Spotify, Google All Access, and others), one piece of the Eric Gales discography is missing: the debut 1991 self-titled release of The Eric Gales Band. I had never encountered it until a month ago.
When YouTube finally opened the Music Key service in November, my All Access membership put me into the Music Key beta group, and I started testing. Eric Gales was one of many randomly chosen searches. The query uncovered live concert treasures of the sort YouTube is uniquely famous for. And something else — an old (but new to me) album which, to my ears, is the greatest Eric Gales studio work I've heard. It is mercilessly heavy, relentlessly funky, cleaves the air with blistering backbeats, and Gales absolutely shreds the guitar with lacerating solos. It is a distilled concentration of deep blues-rock.
The album was uploaded to YouTube by a user named JimMcCormick3.
Normally I would dismember a new album find, save the tracks I like best in a playlist, and discard the rest. (In this extraordinary case of music infatuation I would probably keep them all, but would lose the sense of "album" in the playlist format.)
But there is no ripping apart this album, because the uploader kept it in a single file. This is common in YouTube, though skilled uploaders break albums into their component tracks, each of which is linked within the video. But even in the latter case, you can't remove tracks from the file. When it comes to discography, YouTube is more about albums than typical music services, which are vast collections of tracks.
So, I've been listening to an album nearly every day, from start to finish, a rare music consumption experience that reminds me of my childhood. It's my personal "Album of the Year" — partly because I love it, and partly because it's the only album I have treated like an album in many years. Streaming is the present and the future, but sometimes it circles back to the past.