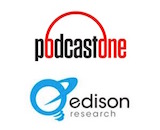 Edison Research and PodcastOne joined forces for a new report examining the heaviest podcast consumers, including their responses to advertising. Topline results from the survey of these "super listeners" were shared at the IAB Podcast Upfront, with full results to come in a webinar next week.
The survey highlights found that super listeners, defined as people who listen to podcasts for at least five hours a week, often have positive responses to the brand advertising they hear. Sixty percent of super listeners said they appreciate that podcast advertisers are supporting their favorite shows, and 44% said they have a more positive opinion of a brand after hearing it mentioned in a show they listen to regularly. Super listeners are also likely to convert into customers, with 70% considering a new product or service due to hearing a podcast ad and 43% saying they prefer to buy from companies with promotions on the shows they regularly listen to, when price and quality are equal.
Although those impressions are favorable, podcasts could risk becoming oversaturated with advertising. For now, only 24% of respondents said there are too many ads in podcasts, a much lower rate than television, AM/FM radio, and streaming music. But 49% of super listeners said there are more advertisements on podcasts now than they heard a year ago.