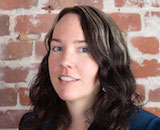 "Super-serving underserved segments." That's one point Beth Murphy mentioned during a catch-up phone call this week. We were interested in an update on Deezer's Stitcher acquisition and integration, as well as the evergreen question of when Deezer will fully enter the U.S. market.
Deezer snapped up on-demand audio app Stitcher in October, with a promise to integrate Stitcher's 35,000 programs into Deezer's 30-million-track music library. It was an important deal, signifying a growing audience demand for talk programming. Stitcher's stand-alone listening app has continued operating apart from Deezer, as the company's North American CEO, Tyler Goldman, promised it would.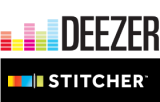 Beth Murphy told us the first integrations would be evident before long, though no exact date was offered. "Our vision is to launch sooner, not later," she said. The embedded Stitcher content might roll out at different times in different markets within Deezer large global footprint.
Murphy mentioned that a new content category could appear within Deezer, which would hold the mostly talk programming of Stitcher. She mentioned "News & Entertainment" as a possibility — that was an example, not an announcement.
Deezer has been fielding questions about a full-throttle U.S. launch for over a year. The service has stepped into the U.S. listening market through partnerships, most notably with Sonos, the home connected-speaker maker. Beth Murphy expressed satisfaction with that deal and others, saying that her company likes the lean-back model of radio-style listening. At the same time, Deezer is a fully interactive, on-demand platform, with a paid subscription access plan. It is that service which will eventually roll into the U.S.
So, the timeline for a U.S. launch? "There's no definite date," Beth Murphy told us. Fair enough. We know the plan is still on, just not when.