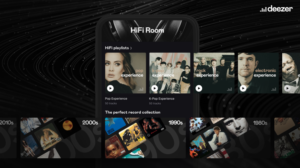 Deezer's push into high-rez audio streaming takes an additional step now, as the company announces an expansion of the HiFi listening plan to families. Five additional accounts can be added to an existing HiFi subscription for five dollars. That spreads out the cost of HiFi streaming to, potentially, less than a dollar per person. The plan is called Deezer HiFi Family.
At the same time, Deezer is continuing its three-month-free introductory trial for any of its paid plans: Premium, HiFi, and Family.
As we reported in November, Deezer calls its high-rez initiative the "HiFi Room," a virtual space which holds special playlists updated weekly. The plan offers access to 3D listening via Sony 360 Reality Audio processing.