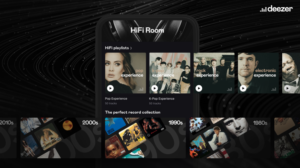 Global streaming music streaming service Deezer has put a stake in the ground of high-resolution audio with a new product called HiFi Room. The virtual room holds 15 exclusive playlists separated into music genres and classic album reissues. The collection is updated weekly, and is drawn from 52-million hi-rez tracks that Deezer has amassed.
A Deezer HiFi subscription account is needed for full access to HiFi room; others can hear 30-second clips and get a sense of the sonic quality. There's a three-month free trial. (Go HERE to hear the room.)
The subscription also bestows access to Sony 360 Reality Audio processing for 3D sound.
"We know that true audiophiles like to immerse themselves into their favorite music. That's why we've brought together over 500 of the best albums of all time in HiFi for our listeners. Now it's easier than ever to enjoy your favorites in the way they're supposed to sound. Or take a leap and dive into  a sea of music you've not yet had a chance to explore, in crystal clear Flac quality. And HiFi isn't only great for listeners, it also benefits artists further thanks to higher royalty rates,' said Alexander Holland, Chief Content and Strategy Officer at Deezer.
.