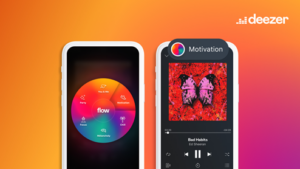 Global audio streaming service Deezer has developed and launched a fresh take on the mood-based music playlist genre. It's called Flow Moods. It is an infinite playlist of the user's favorite tracks, adjusted with a new Flow Moods wheel in the Deezer app. The company refers to this UX feature as the Emotional Jukebox. (We love that.)
Deezer inserts a bit of science in the announcement, asserting that people experience one or several emotions 90% of the time. As a species we've got the feelz, in other words, Flow Moods encourages users to dial them up or down using the Emotional Jukebox. (We love it every time we type it.)
Six Flow Moods are supported:
You & Me – Feeling a little frisky? Let us set the mood for romance with feel-good tracks that you and your partner will love.
Motivation – Need a little nudge? Make workouts a joyful experience with a power mix to keep you moving.
Chill – Time to kick back? Relax with your favorite artists that help you unwind and let go.
Melancholy – We all get the blues now and then. If you're in the mood for a good cry or want to wallow in sorrow – let it all out here.
Focus – No distractions, please! Let us help you stay in your zone with the right kind of music to help you achieve your goal.
Party – Whether it's a party of one or party of more – get in the spirit with an endless mix of crowd-pleasing music to get you dancing.
Users start by touching Flow in the app, then using the Emotional Jukebox (feelz) to sink deeper into sweet Melancholy or sharpen the mind into work-crushing Focus.
We're told Flow Moods and the Emotional Ju — …no, we're not going to type it again — will be rolled out to everyone by tomorrow (October 8).
.