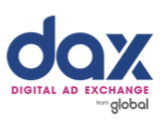 Digital Audio Exchange DAX announces today the appointment of Jon Hale as Chief Growth Officer, North America, in the DAX North America division headed by CEO Les Hollander.
Hale comes from Spotify, where he held several executive positions, most recently Head of LATAM Sales.
"We are thrilled to bring someone of Jon's caliber to DAX," said Hollander, who also came to DAX from Spotify where he was Global Head of Audio and Video Monetization. "Jon is a growth-oriented leader and brings a wealth of expertise in the areas of sales and operations, with an eye for innovation and keen ability to scale the business."
Jon Hale is based in Toronto. He will split his time between the US and Canadian groups, focusing on tactical revenue growth, team performance, strategy, and alignment across the North America operation.
"I'm so excited to join the talented, passionate DAX team" said Hales. "DAX/Global continues to revolutionize the market with smart acquisitions such as audio content and technology start-up Remixd, and by forging new partnerships with players like Breakbeat and IPN. These new offerings and our stellar roster of publishers and podcasters will allow us to evolve the value model, expand our revenue footprint and impact the digital audio landscape with our US and Canadian partners."
.