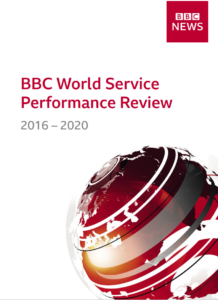 The BBC released its World Service Performance Review 2016-2020, a comprehensive status update comparing current metrics with goals across all BBC media categories.
Global reach increased by 11% year-over-year to reach 468-million people per week, a new record. The BBC holds an ambition to reach 500,000 people worldwide by 2022. During the review period of this report, BBC reach grew 42%. from 246-million.
Looking at the report through the lens of digital distribution, we see that the BBC exceeded its target digital reach of 104M, to 116M people. That is for all BBC media categories, not audio exclusively.
The graphic below breaks out audio (not necessarily digital audio) from other categories, and shows a fairly stable line, marginally down year-over-year.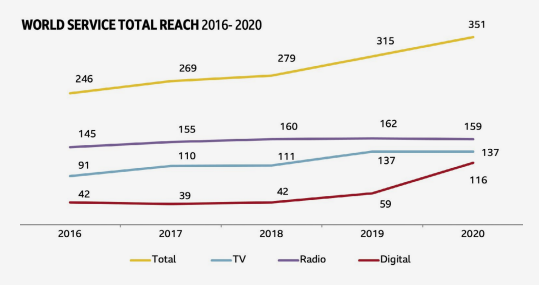 "Across this period, BBC World Service listening via radio platforms remained broadly stable," the report affirms.
When it comes to podcasting, the report's most concise growth statement is this: "Podcasts are now a significant driver of reach, growing 55 per cent from 2019 to 2020, as podcast listening has grown around the world. Research suggests that this medium helps meet the growing need of audiences for quality in-depth explainers as the number of potential online sources of information and misinformation have grown."
As a case study of sorts, the report cites 13 Minutes to the Moon and Death in Ice Valley, the latter co-produced with Norwegian public broadcaster NRK.
The outlook? This BBC report is more concise than precise: "This expansion in digital audio looks set to continue in the coming years
.