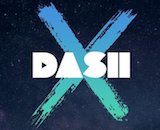 Dash Radio has raised a seed round worth $8.8 million in support of its free online radio platform. Investors participating in the round include Nimble Ventures, Slow Ventures, Lazerow Ventures, Muzik, Arab Angel, G Ventures, Lindzon Capital Partners, Jason Flom, Orin Snyder and Ian Schaefer. The round will also see some of the investors joining Dash Radio's board, including Warner Bros. Chairman and CEO Kevin Tsujihara. Michael Zeisser, Alibaba's former chairman of U.S. investments, and John Burbank, founder of Passport Capital, are also joining the board.
In addition to the funding round, Dash Radio has also reached a milestone of 10 million monthly listeners. The platform boasts more than 400 shows across 75 stations in its programming, all adding up to a 24/7 online radio stream.
Dash Radio founder Scott Keeney, also known on the airwaves as DJ Skee, sees radio as a distinct entity from on-demand music streaming. While Apple and Spotify are comfortably hlding court in on-demand, he dubbed online radio "the wild, wild west." He distinguished Dash from other competitors in the online radio space, arguing that most rivals are "legacy players" that are "all burdened by legacy infrastructure."
These successful results for Dash Radio have been years in the making. Keeney shared some of his visions for Dash as the leader in laid-back listening, as well as it's savvy approach to sponsorships, with RAIN News in an interview in 2016.