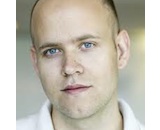 In a recent investor gathering, Spotify CEO Daniel Ek keynoted his company's presentation with a manifesto which promoted Spotify's accomplishments — in the product and the financials — and broadly charted a big-thinking future. Following are key quotes.
"I believe we have a great product and importantly, our business is doing really well. But what's even more, we're really investing in building a fantastic, multi-sided platform that has all the ingredients to become one of the truly unique creative platforms in the world." –Daniel Ek, CEO, Spotify
Ubiquity
"Spotify has more than 2,000 partners—with integrations spanning from wearables like watches to all facets of the connected life—including cars and even kitchen appliances."
Scope of the Catalog
Today, what's also different is that listeners not only have access to all the world's music, but also have access to more than more than 4 million podcasts and an increasing number of audiobooks."
User Behavior
Today, 89% of Spotify Premium subscribers use Spotify on multiple devices, up from 75% when we last spoke to you."
Personalization
Our expertise in audio personalization is truly unmatched and we have already begun to apply it to podcasts."
The Value of Freemium
It enabled Spotify to build a successful flywheel with our free tier serving as a direct funnel to help us establish a large and growing subscriber base."
Global Reach
When Spotify debuted publicly, we were available in 65 markets around the world. And thanks in large part to our unique approach, in just four years, we've almost tripled that number to 183 markets and territories."
Overall Financial Performance
Let's go back four years. We've delivered compounded annual growth rates of 26% for monthly active users, 26% for subscribers and 26% for revenue on a currency adjusted basis."
Debunking an Assumption
The music business is doing much better than you think."
Big Vision
We are now the world's largest audio streaming platform. But the prize we are going after is actually much greater and as a consequence, the total addressable market is gigantic […] and this is the unrecognized narrative. And it has more financial upside because of our ability to successfully combine and bundle multiple business models with multiple verticals into one user experience."
The Podcast Investment
We saw such a significant opportunity to expand our platform and our audience, so we decided to go aggressively after podcasting. […] And while the podcast vertical is still largely in investment mode and not yet profitable, we believe it has a 40-50% gross margin potential."
Podcast Discoverability AI
I think this ability to leverage state of the art machine learning technology to improve the discoverability of podcasts is really in its early innings of doing, for talk listening, what our personalization did for music listening."
Not Just Music and Podcasts
What our successes in music and podcasting has clearly demonstrated is that we have built a powerful machine and solid infrastructure that enables us to go after new verticals."
Such As…
We believe that audiobooks, in their many different forms, will be a massive opportunity. […] So call that an annual opportunity of $70 billion dollars for us to expand and eventually compete for."
An Uncharted Frontier?
We see the opportunity to continue to imagine and explore new verticals across our platform—within audio, but also beyond. […] We will firmly cement Spotify as the home for some of the greatest artists, creators and educators in the world. And that gets us to that coveted position of being the world's Creator platform. A place where artists, and writers, and labels, and publishers, studios and creators can come to manage their businesses."
Unbashful Comparisons
To summarize, looking back at the best companies—think names you are all very familiar with—they are vastly different companies today than when they started. And they might have  made their initial mark in one specific category, think books, search, desktop computers and they then redefined the way we think about those categories by expanding their potential through innovation."
.