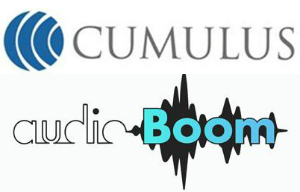 Radio group Cumulus Media and audio platform Audioboom have announced a major strategic partnership to produce and distribute on-demand audio. Westwood One will be the exclusive ad-rep agency for Audioboom's monetization efforts of the content. Westwood One is a wholly owned subsidiary of Cumulus.
On Audioboom's side of the deal, the London-based company will use its audio embedding technology to gain a presence across hundreds of U.S.-based websites and apps. Audioboom CEO Rob Proctor sees the oceanic leap as key to the deal: "This partnership represents a major opportunity for a full roll-out of the Audioboom platform across the entire USA, which will drive increased monthly listens and advertising opportunities."
Proctor also noted the distribution advantage for Cumulus: "Our partnership with Cumulus is not just about making Cumulus content available to our users, but rather, this is about using our platform to allow Cumulus to become a truly distributed media company."
The Cumulus and Westwood One radio network is composed of 450-plus stations, 100-plus nationally syndicated shows, and over 240-million listeners. Audioboom-hosted content from Cumulus will join existing brands in the Westwood One portfolio, including the NFL, NBC Sports Radio, NASH, and streaming music service Rdio, which is partially owned by Cumulus.
While exact programming is not disclosed, this alliance is a clear step into spoken-word streaming by a major radio group. "Radio is America's #1 reach medium," said Cumulus Media CEO Lew Dickey, "and as listeners continue to increase their consumption of audio, this partnership allows for new ways for consumers to explore and engage with the radio stations and on-air talent they know and love today."
Podcasting — or, more  broadly, on-demand spoken-word audio — represents an opportunity for radio to enter the streaming market with a historic strength. Radio does not generally have the technical infrastructure to effectively compete with personalized music streaming services, and the music licensing expense which doesn't exist over-the-air adds a complicating factor. But talk programming matched to Audioboom's streaming and distribution technology makes this a natural on-ramp to a network-wide streaming product for Cumulus.
For on-demand audio, a deal like this represents a step toward the institutionalization of podcasting, which is transforming into a content category for creators at all levels, from amateur to B2B to media powerhouse.