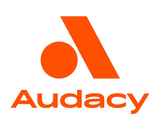 Media behemoth Audacy is splashing results of new survey work which explores cross-platform listening. Called The Rise of the Cross-Platform Listener (see it HERE). It drills into the "AudioX listener" concept which Audacy explored in the company's meaty State of Audio report last summer. (That one is HERE.)
A central theme running through all this work is a kind of platform agnosticism exhibited by young listeners — mainly Millennials and Gen Z-ers. The main characteristic is crossover listening between radio and podcasting. They bring with them marketing value: 52% have college degrees, and 67% earn incomes of $100k-plus.
"Those Radio listeners who extend their listening into digital platforms are a curious bunch. They dig into podcasts to understand how and why. They listen to hosts to stay ahead of the curve. They are driven to succeed, and they are optimistic, making them all the more receptive to new information." –Audacy "The Rise of the Cross-Platform Listener"
This week's release shines light and detail on the phenomenon. Cross-platform listening tends to follow all kinds of daily activities.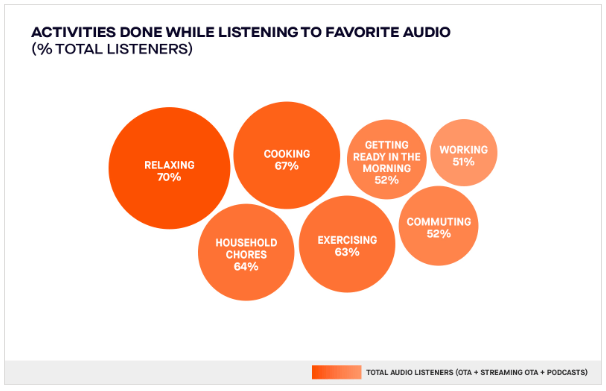 With this audience's gleaming demographics, a question is whether they are receptive to advertising. Audacy's survey work indicates that cross-platform listeners over-index on a receptivity scale: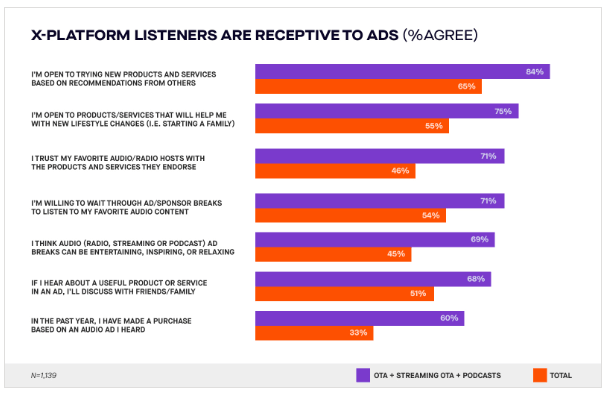 There's more detail to this examination of young, mobile listeners HERE.
---