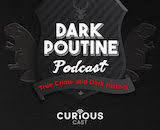 News from up north, as Corus Entertainment announces an acquisition for its Curiouscast podcast network. The platform has added popular true crime podcast Dark Poutine to its lineup, which has a growing number of original Canadian shows. Creator Mike Browne and co-host Scott Hemenway helm the "unabashedly Canadian" show, covering all things dark and creepy.
"As a proudly Canadian podcast we are over the moon to have this opportunity," said Browne. "With Corus backing us, Dark Poutine's rabidly loyal listeners, also known as good eggs, can look forward to many more episodes of our show."
"As a network dedicated to promoting powerful Canadian podcasts we are thrilled to welcome Dark Poutine to our lineup at Curiouscast," said Chris "Dunner" Duncombe, Corus' director of streaming and podcasting. "This addition further signals our commitment to be the destination for high-quality podcasts in Canada."
Curiouscast's other Canadian programming includes This Is Why, When Life Gives You Parkinson's, and The Ongoing History of New Music.