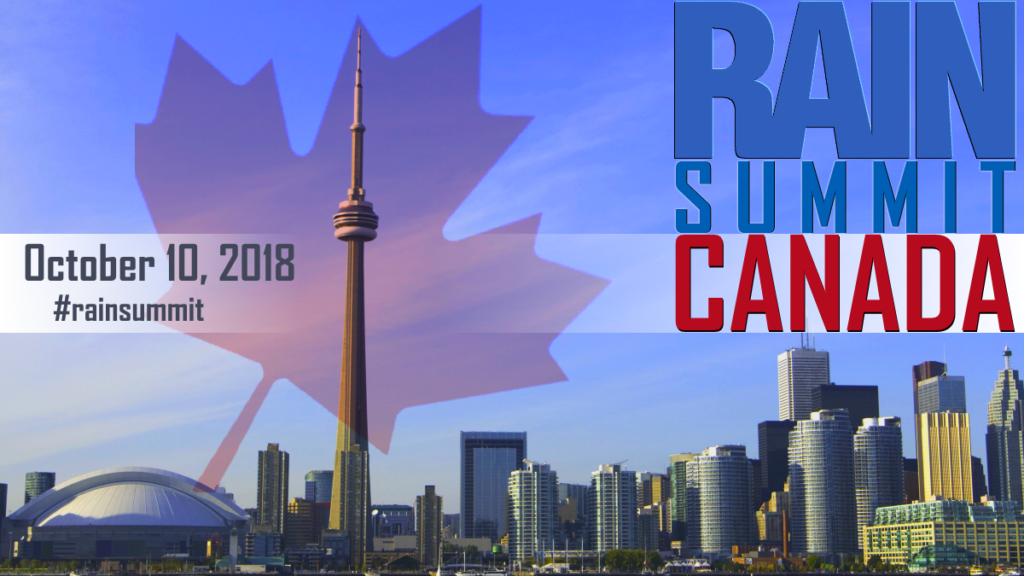 The global RAIN Summit series too its latest step yesterday with the inaugural RAIN Summit Canada in Toronto. With presenting sponsor Targetspot and with sponsorship support of DAX and AdsWizz, plus participating sponsors ART19, Voxnest, Nuvoodoo, leanStream, and AccuRadio, the event brought digital audio buyers and sellers together in RAIN's key mission of knowledge and networking. RAIN Summit Canada was produced in affiliation with The Podcast Exchange (TPX).
Staged in the renowned Glenn Gould Studio theater, an audience of nearly 200 people comprised of audio agency buyers, broadcasters, journalists, and technology innovators attended a dynamic half-day program that explored the unique characteristics and advantages of online audio. Streaming, podcasting, and smart speakers were discussed at length.
As a RAIN Summit first, the Digital Agency Roundtable brought three top-level executives from the buy side onto the stage: Kristine Lyrette (President, Zenith Canada), Caroline Moul (President, PHD Canada), and David Jowett (Partner, No Fixed Address Inc.). Moderated by Sarah van Mosel of Market Enginuity, the conversation explored the needs and expectations of audio advertisers confronted with a changing landscapes of streaming audio and podcasting. RAIN is building the valuable agency perspective into a series of panels crossing over the entire Summit series in Canada, the U.S., and Europe.
As a counterpoint from the sell side, a Digital Audio Radio Roundtable brought together executives from five of Canada's most important radio groups:
Jordan Heath Rawlings (Director, Digital Radio Rogers Media)
Steve Jones (VP Brands & Content, Newcap Radio)
Rob Farina (Head of Content, Strategy & iHeartRadio Bell Media)
Chris Duncombe (Director of Streaming and Podcasting, Corus Entertainment)
Leslie Merklinger (Senior Director, Audio Innovation CBC Radio & Audio)
The conversation ranged across radio's navigation of new challenges and opportunities brought by podcasting and smart speakers. These operators were realistic about the rough spots in making content working in smart speakers, while recognizing the long-term opportunity. In podcasting, discovery emerged as a key challenge, along with the need to convert "never users."
Erik Portier of Radionomy/Targetspot came from Europe to give an animated presentation titled, "If you don't have a digital audio strategy, you don't have a future strategy." It was a survey of tactics and strategies with the entrepreneurial spirit of failing fast to discover the best success paths.
Guy Jones flew over from London for his talk, "Innovation in Audio Advertising." Case studies illuminated this talk, which featured what digital audio advertisers are doing in the U.K.
RAIN Founder Kurt Hanson delivered his latest "State of the Industry" address. This always informative and lighthearted presentation often features pictures of Hanson's dog, Jackson. At this event, Jackson celebrated the Canadian Summit launch by attending in person, sitting placidly in a panel chair.