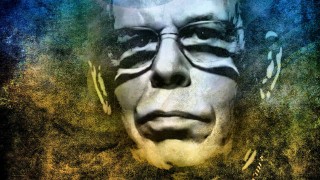 As we reported last month, famed radio host Art Bell is returning to the air tonight, with a new talk program called Midnight in the Desert. The show focuses on science and the paranormal, topics that formed the basis of Bell's late-phase radio career. Information can be found on the ArtBell.com website, and the Dark Matter Digital Network. The show's stream lives at TuneIn here. On the tech side, StreamGuys is the infrastructure company which is delivering and monetizing the program stream.
We spoke with Art Bell on the phone about his imminent return to radio, and the newness of creating an Internet-first program.
"I think that's the wave of the future," Bell told us.
Midnight in the Desert is modeled on an unusual reverse syndication model. It is an Internet show offered to radio stations that are willing to comply with scheduling and ad-load restrictions. Art Bell offered a simple explanation for how that syndication course developed: "Stations started calling. I couldn't think of a logical reason to say 'No'."
The most recent station to sign on is also one of the most influential: KXL in Portland, OR. "That's a big mama. They are the latest to join." He also mentioned CFRB Toronto, at 50,000 watts. "We've picked up over 20 stations, including a couple of short wave stations that cover God's green earth." Bell said.
"It's kind of a backwards operation, because we didn't intend it to be a syndicated show, but here we go."
The show is streamed live, and syndicating radio stations must broadcast the program live, with no time-shifting. Midnight in the Desert will program no more than six minutes of commercials per hour, and radio stations are permitted to inject only two minutes per hour, total. Stations are not permitted to put the program in their Internet streams. Part of the reason has to do with music licensing, according to Bell.
"If a radio station picks us up, the music is covered by their licensing arrangement. All we ask, is that they not stream the show. It's an accounting thing. You've got to know what you streamed, and how many people were  listening. We can do that accounting, because we've got servers that tell us everything we need to know."
Throughout the conversation, Art Bell seemed at ease with the technology side, but confessed that Internet distribution was a challenge to learn. "I've had a learning curve. I'm a ham operator, and have a general radio-telephone certificate. I am technically fluent, but trust me, when it comes to the Internet I've had a big learning curve."
In evangelizing the new show, Art Bell said that it would contain a lot of content each hour. Also, something different: "I've connected with a really good newscaster who used to work for Mutual News. We are going to run a five-minute newscast at the bottom of the hour, not the top. It might lead with a big national story if there is one. Otherwise it will be all paranormal news, and it will sound just like a big network newscast. Is that cool, or what? It's consistent to the format of the show, it'll add to the format of the show, I might even jump on some of the things he reports."
The live-streamed show is free for everyone to listen. There is also an accompanying subscription offer, which Bell described: "We've got a five dollar membership that allows downloading the podcasts later. It also allows them to go into what we call The Wormhole and send messages to me and guests while we're live."
He is approaching the new phase of his career with a spirit of adventure. "This is a wild, wild west experiment. I've got skin in it; I built my own studio. I think the world is changing. How many times do you walk down the street and see a kid with a radio plastered to his ear listening to the radio? But we all walk around with phones, and they have TuneIn. If users don't have TuneIn — computers get it, and cars get it. We're in the middle of a sea change. It's going to be really fun to see what happens."