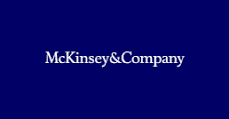 Consumer spending on digital products will grow a projected 5.1% to $2.1-trillion in 2019, according to McKinsey's newly released State of Global Media Spending report. (PDF here with registration.) "Yet this growth actually reflects a general slowdown," according to McKinsey. The same statistic rose 6.2% between 2009 and 2012.
But digital advertising was on a faster rise through 2014 — a blistering 16.1% growth of marketing dollars pouring into digital formats. McKinsey expects digital advertising to remain a hottest growth prospect during the report's projection period (2014 – 2019). During that period, the compound annual growth rate (CAGR) is projected at 12.7%, with digital marketing spend totaling 231-billion dollars in 2019.
Audio advertising is bundled in with other platforms (TV, newspaper, magazine) in that projection. the projected line for audio growth includes both consumer and advertising expenditure, and shows a CAGR of1.8%, to a dollar amount of $105-billion.
Totaling all the buckets in this report comes to a 2019 projection of media spend (consumer and advertising combined) reaching just over two-trillion dollars.
In all media categories, the shift to digital for consumer and marketers is the leading trend identified by McKinsey in this report. That is important in the entire audio ecosystem, both over-the-air and Internet-delivered. The timing matches the upcoming new year, when new Copyright Royalty Board (CRB) music licensing rates for webcasting are significantly lowered for terrestrial radio stations. While radio does not welcome music royalties, and has never been liable for them in over-the-air broadcasting, the lower rates — combined with trendlines pointing to advertiser migration to digital — might encourage investment in streaming.