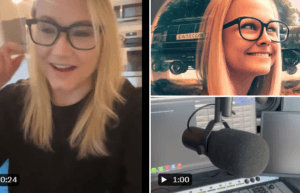 In what might be the first realization of synthesized DJs in actual broadcast shifts, "AI Ashley" — a voice-cloned version of Live95.5 midday host Ashley — works her (its? their?) first realtime shift.
Live95.5 is an iHeartMedia outlet. Ashley promoted the breakthrough on Twitter with a demonstration video of AI Ashley making a phone call to a contest winner. "I guess I have the day off," Ashley wryly observed.
The voice approximation is as good as we have come to expect from rapidly advancing voice-cloning technology. More impressive to us is the apparent intelligence built into the model, enabling it to make a phone call, banter, answer questions, and deliver the contest news. (Assuming for now the video was not cobbled together with overdubs.)
Below, a video documenting the experiment. Click the bottom-right video.
We made history as the world's first radio station with an AI DJ! Our midday host Ashley has become AI Ashley! We can't wait for you to meet Ashley, the world's first artificially intelligent DJ. As to the intelligence of our other DJ's…we'll save that for another post 😉 pic.twitter.com/CtlMhYU0IO

— Live 95.5 (@live955) June 13, 2023
---