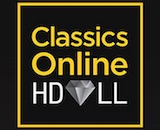 Today, we wrote about how The Overflow's Christian and gospel music streaming app could be signaling a new trend toward niche genre services. Fitting then that shortly after publishing, we heard that Naxos announced the global launch of a high-fidelity classical music service. ClassicsOnline HD is both a streaming service and a download store specializing in high-definition and lossless classical music files.
The new service builds on Naxos' experience with its label-specific streaming service at Naxos.com.
On the streaming side, ClassicsOnline HD promises CD-quality songs at a 24-bit / 192 kHz sampling rate and no buffering or signal loss to cause interruptions mid-sonata. It has a desktop app and mobile versions for both iOS and Android, in addition to a web player. A subscription costs $14.99 a month, which is less than the CD-quality of genre-agnostic Tidal, but more than we'd expect for the usual niche service.
As with The Overflow and with comparable electronica sites such as Beatport, part of the experience with ClassicsOnline is the related online community. Naxos' main site is a comprehensive resource about the genre, both for an educational grounding and for details about album releases, artists, and composers.
The adage says that twice is a coincidence, but three times is a trend. Will we see more genre-specific streaming platforms emerging this year? Seems likely.