Canalys has published its 2020 outlook for the Internet-of-things industry. It projected that smart speakers, smart personal audio devices, and wearable bands would see a 9.8% increase in shipments for a total of 718 million units during the year.
Smart speakers are forecast to see just 1.5% year-on-year growth. The projected rates are highest in Greater China, with 12.4%% growth to an anticipated 58.9 million shipments. Asia Pacific and Latin America are also expected to have growth. While shipments in North America are seen to reach 38 million for 2020, that figure is down 7.7% on-year. The EMEA region is also projected to see a year-over-year decline of 9.9% with 2020 shipments of 18.2 million.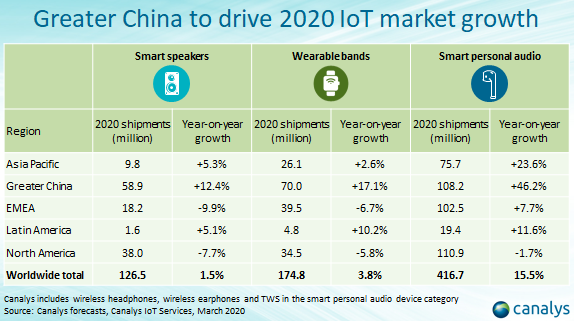 Smart personal audio devices are pegged to have more universal growth in different markets. Canalys projected the segment to see 15.5% overall growth, reaching 416.7 million shipments. Again, Greater China is likely to be the top market, with 46.2% growth to 108.2 million shipments.
"China will be a key growth drier in 2020 as the country is confident that the pandemic is well under control," Canalys Senior Analyst Jason Low said. "With safety measures in place to prevent its re-emergence, economic activities will resume quickly and consumers will start to spend again. The same is likely to happen in other countries when countermeasures kick in."