The annual Canadian Podcast Listener Report, produced by Audience Insights and sponsored by TPX (The Podcast Exchange), debuted the 2019 edition at RAIN Summit Canada last week. The results were presented by Jeff Vidler (President, Audience Insights) and Jeff Ulster (Chief Content & Technology Officer, TPX).
As with podcast-related consumer surveys in other regions, this Canadian study revealed that podcast listeners are more educated and affluent than the average population figures (43% are monthly listeners and 24% earn six-figure incomes).
A couple of interesting points:
French Canadians a less likely than English Canadians to be podcast listeners
37% of weekly podcast listeners are "Power Listeners," listening to five-plus hours per week
Perhaps the most unexpected result from the 2019 work is the role of YouTube in Canadian podcast listening. Survey respondents named YouTube more often than any other platform for listening in the past year: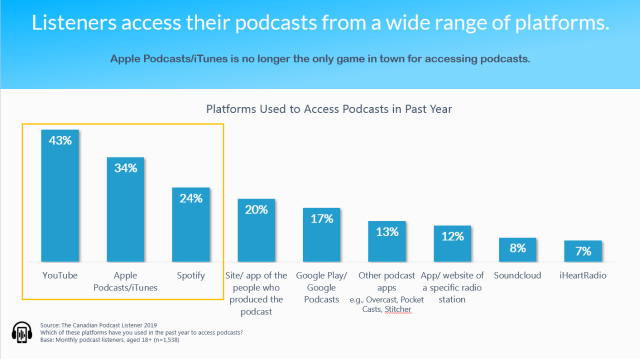 At another point in the presentation The Joe Rogan Experience was identified as one of the most popular shows for Canadian listeners — that podcast is simultaneously released in audio and video, so perhaps skewed the platform use by means of its intense audience gravity field. Nonetheless, YouTube use exceeding Apple use (see the graphic above) is a startling thing. (YouTube's role is getting increased exposure lately; Tom Webster discussed it in his keynote presentation at Podcast Movement in August.)
Listener acceptance of advertising, and response to it, is documented in the report. Thirty-one percent of respondents searched online for more information about an advertised product or service. Twenty-five percent discovered a product/service for the first time via podcast marketing. Twelve percent used one of those promo codes you hear all the time. the survey asked about specific advertiser brands; Squarespace was the brand with the best recall. (Other stalwarts — Casper, Audible, MeUndies, Hello Fresh — also performed well.)
Canadian listeners are often frustrated by American advertising; 62% said they were frustrated by non-availability of an advertised product/service in Canada. It seems like this speaks to an opportunity for Canadian companies to put more budget into podcasting.
That said, 39% of respondents said they avoid podcast ads. but that is a less dire result than other media categories — AM/FM radio, TV, newspapers, magazines, email  advertising, online video, online banners, popups … all encounter greater avoidance hostility from this study's survey group.