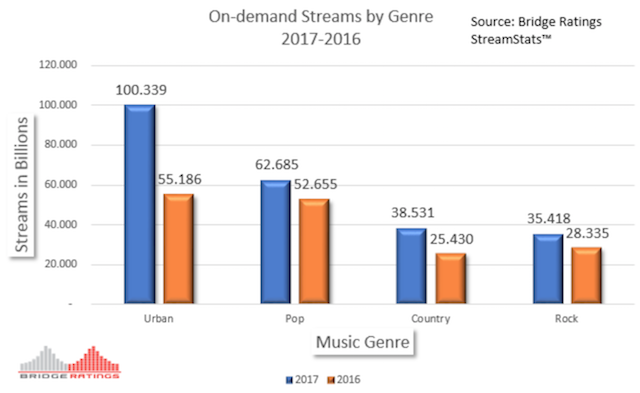 Bridge Ratings has published its recap of 2017, drawing several broad trends in the music and audio industry. The company's wrap-up said that the number of streams in 2017 increased 40% over the total for 2016. It also offered insights on programming for on-demand streaming, such as using data about a playlist's specific audience to encourage more frequent listening and when to ease up on a song that could be over-exposed to today's highly connected listeners.
The top genre in music streaming this year was the broad category of urban/hip-hop and R&B, with nearly 100 billion streams falling under that umbrella. Audio streams were 63% of the total, and video streams the remaining 37%. Migos' "Bad and Boujee" was the top track in the genre, followed by "XO Tour Llif3" from streaming sensation Lil Uzi Vert.
Pop streaming increased 16% over the previous year to reach 62 billion streams. Ed Sheeran's "Shape of You" topped that chart after breaking records across streaming services. Pop also clocked more streams from audio at a 60% share. Country was even more heavily weighted toward audio at 70%. Total streams for country reached 38 billion, a 33% jump from 2016. Rock streams increased 20% to 35 billion. It also skewed heavily away from the visual with 68% audio streams.
Bridge Ratings also acknowledged 2017 as a breakout year for podcasting. "Voice controlled audio search is beginning to establish an invigorated user growth factor and will further enhance time-spent with podcasts in 2018," Bridge President Dave Van Dyke predicted. The company's research this year has shown growth in audience interest and size, as well as in spending on podcast advertising. Bridge estimated a 34% increase in ad spend by the end of 2017, which would total $255 million. The company is also projecting 30% growth for ad money in 2018.
Finally, Bridge reflected on the surging interest and support for smart speakers. Amazon's Echo product line remains the dominant player with 71.3% market share in 2017. Google Home about doubled to a 14.7% share after posting 6.7% in 2016. All other smart speakers accounted for 14% of the 2017 market, up from 1.6% in 2016.