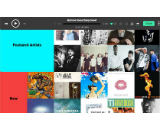 Bop.fm announced the addition of several music services to its agnostic listening platform. Pandora, Xbox Music, Rhapsody, and Napster are now a part of the program.
Bop.fm allows its members to share songs across platforms, and to create playlists from music. This makes the Pandora relationship particularly interesting, since it's a lean-back service. Bop.fm will let listeners add their liked Pandora tracks to playlists, creating a more on-demand experience for people on that platform who enjoy both the randomness of radio and the control of playlists.
GigaOm also observed that Bop.fm has quickly gained traction among musicians because it makes their songs shareable with fans on many different platforms. Pop singer Ariana Grande uses the Bop.fm widget on her website, while Depeche Mode uses it in conjunction with Facebook. Despite being a new service, Bop.fm's unique offering in this crowded sector has gotten it off to a strong start.