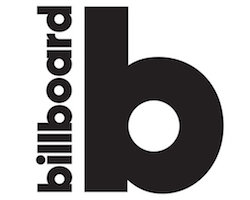 Billboard is adjusting how it calculates streaming equivalents for two of its charts, as was previously discussed last fall. The new equations will give greater weight to streams from paid subscription on both the Billboard Hot 100 and the Billboard 200 charts. The changes will take effect in the first week of Nielsen's third quarter for 2018.
The Billboard 200 chart will have two tiers for how it counts streams. For paid subscription audio, 1,250 streams will count as one album. For ad-supported audio streams, 3,750 streams will count as one album. Video streams will continue to be excluded from this chart.
The Hot 100 chart will have three separate tiers for weighting streams. Paid subscription streams will be worth one full point per play. Ad-supported streams will be valued at 2/3 of a point and programmed streams will be 1/2 of a point. The formula for the Hot 100 will be the same, with streaming calculated alongside all-genre radio airplay and digital song sales data. "Streaming remains the most dominant factor on the chart, followed by radio airplay and digital sales in descending order of significance," the Billboard staff said in the post explaining the changes.