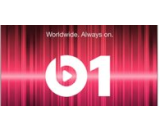 Beats 1, the new Internet radio service launching Tuesday as part of Apple Music's rollout, will not carry traditional radio spots. Instead, according to a report in Ad Age, the company is pitching host-read sponsorship mentions during Beats 1 programs.
Host-read and host-riffed commercials are not unknown to AM/FM broadcasts, by any stretch. But they have gained trademark status in podcasting, where semi-improvisational discussion of sponsors and their products is the governing model for direct response marketing.
Internet radio, where Pandora is the market leader, leans in to the terrestrial radio model, injecting 15- and 30-second spots (sometimes accompanied by banners or video). Pandora is a technology company at the core, with very few human hosts.
By all reports, Beats 1 is launching as a hybrid product which takes the human element from terrestrial (the company splashily hired celebrity DJ Zane Lowe from the BBC), while taking advantage of the global reach afforded by Internet delivery. Apple has announced that Elton John, and several other musical celebs, will also take hosting gigs on Beats 1. In that model, the personalized advertising approach of host-read copy takes on a bright aura of celebrity endorsement.
Ad Age reports that Apple has been discussing signed deals with a "limited number of global brands."