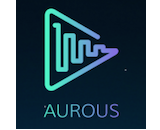 There's a new streaming service on the horizon and it's already attracted lots of buzz and lots of scrutiny. Aurous is a free and ad-free music platform that pulls its tunes from licensed third-party sources such as SoundCloud, YouTube, and Spotify. Within days of its official alpha launch, the service was hit with a lawsuit by the RIAA alleging massive copyright infringement.
Developer and creator Andrew Sampson has been vocal and even defiant about arguing that Aurous is legal. "From a legal standpoint, what we're doing is okay," Sampson told Billboard. "All files are streamed from legitimate sources — we don't host anything." He emphasized that Aurous does not host any files on its servers and only provides an interface. He even said that he'd ignore cease-and-desist letters centering on individual tracks.
There have been other services, mostly mobile apps, that are designed to collect music from outside platforms. But whether an agnostic playlisting service or a messaging platform, those aggregators have mostly had business models or ad systems. Aurous enters questionable legal territory since it could wind up pulling music from pirate sites or streaming an illegal upload to a user-generated content site.
While the legal angle to Aurous is one to keep an eye on as a potential precedent for how other platforms might use this tech approach, also of interest to our readers are the reasons why Sampson started this project in the first place. He explained that the inspiration came when he couldn't get Pandora tracks to load during a road trip. "So I switched to Spotify and they served me ads I wasn't interested in," he said.