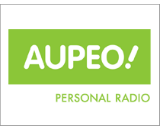 Personalized Internet radio service Aupeo is shutting down on Nov. 30. The platform will end public operations on that date, with today the last date that premium subscribers will be billed with monthly charges. Aupeo ran a listening platform for digital dashboards called Personal Radio by AUPEO!
However, it seems that this is not the end of Aupeo entirely. According to the notice on the Aupeo website, the general public shutdown notice "does not pertain to drivers of Audi vehicles."
Car listening became a key component of Aupeo's business in the past years. It entered a car-focused deal with AudioBoom in March 2015.