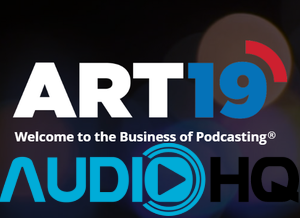 When AudioHQ announced the release of its original Bronzeville podcast series, one of the forces intersecting in that project was ART19, the podcast tech company which hosts the series. Now, we learn that AudioHQ and ART19 have cemented that relationship, and Sean Carr's ART19 will be the hosting platform for other AudioHQ productions.
Nothing has been disclosed by AudioHQ in the way of shows in the pipeline. But the We're Alive program is exclusively distributed and repped by Matt Cutair's AudioHQ, and ART19 is hosting that as well. AudioHQ is mainly an advertising sales company; Bronzeville was its first foray into production.
"It's official," an ART19 spokesperson told RAIN News about the long-term relationship between the two companies.
ART19 is a progressive podcast hosting and ad-tech platform which is promoting its WarpFeed technology which targets and serves host-read ads across its entire portfolio. The company has developed API distribution technology (an alternative, and addition, to legacy RSS distribution) which provides producers with better data about audience consumption than RSS does.
AudioHQ could be called a boutique advertising company, insofar as it partners with specialized audio publishers service defined audiences — AudioHQ partners include SoundCloud, Slacker Radio, Digitally Imported, Bloomberg, and Jango, among others.