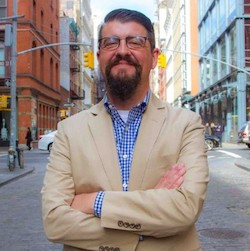 Audiochuck, the podcast company formed by Crime Junkie entrepreneur and podcast personality Ashley Flowers, is forming a new business unit to develop new shows. That subsidiary is called WAVLAND, and will be led by long-time podcast executive Jason Hoch.
Hoch was with HowStuffWorks for five years, first as Chief Content Officer, then as Head of New Initiatives. He was President, Podcasts at Imperative Entertainment, ending that stint last month. In that role he launched 23 new shows including Boomtown.
His title at WAVLAND is Chief Executive Officer and Chief Creative Officer. Hoch will produce upcoming projects for WAVLAND, the first of which are targeting to be released before the end of the year. Hoch will report to Audiochuck CEO Kevin Mills.
As part of Audiochuck's ongoing deal with SiriusXM, the satellite radio giant's SXM Media will handle global ad sales rights to all shows produced for the WAVLAND network.
"I'm so excited to be joining Ashley and her impeccable team at Audiochuck," Hoch said in a statement. "This is an incredible opportunity to deliver non-fiction documentary, drama and true crime stories at scale with some amazing creators. Taking the road less traveled has always been a hallmark of my career, and I intend to travel the country with our team to tell these stories like never before."
---