Audioboom launched its creative division, Audioboom Studios, last October. Recently three shows were added to its production schedule — two in the True Crime category, and one which sounds like a crossover dating/cooking show.
Devils in The Dark, launching Monday February 28th will be the first show from Audioboom Studios in the United Kingdom. Hosted by YouTube creator Helen Anderson and her best friend Danni Howard — both first-time show makers — they explore the wildest, most gruesome and totally shocking true crime cases in history. (We remain impressed by the infinitely expandable True Crime genre and the implied depth of human criminality.)
Celebrity make-up artist, comedian, self-proclaimed culinary queen and It's Happening co-host, Joey Camasta launched Could I Get in Your Pantry on February 14th. The inaugural season sees Camasta welcome actors, comedians, podcasters and more to share a hook-up story and the meal that was involved.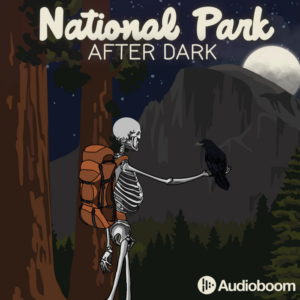 The third addition is an existing show that Audioboom Studios has adopted: National Park After Dark.Co-hosts Cassandra Yahnian and Danielle LaRock share a passion for the outdoors and a fascination with all that can go wrong. Every Monday, they explore a different morbid story within the National Park System. Topics range from deaths, tragic accidents, stories of survival, and disappearances.
More to come from Audioboom Studios, according to Chief Content Officer Brendan Regan:
"We have tremendous plans ahead for Audioboom Studios in the coming year," Regan said. "The level of passion and commitment our production team is bringing to these projects, alongside our roster of talented hosts is a true testament to Audioboom's focus on developing the most creative entertainment content in both the UK and US markets."
.