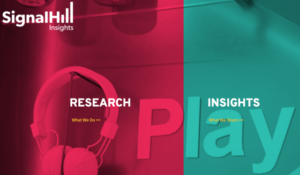 Toronto research company Audience Insights is enlarging the scope of its research and consulting, and changing its brand to Signal Hill Insights. The main thrust of the company's expanded mission appears to be a widening of focus. While Audience Insights provided intelligence to advertisers, Signal Hill Insights will also work on monetization issues for publishers.
"With the move to Signal Hill Insights, we are doubling down on audio," said President and Founder Jeff Vidler. "We see a particular opportunity for a research company that helps advertisers harness the power of audio, while also helping to clear a path to monetization for podcasts and audio streaming — and reaffirming the wide reach of broadcast radio."
Though no specifics are included with the announcement, Vidler does mention "an expanded team."
Four main areas of work are broken out in the Signal Hill website: Brand Lift Studies, Brand Health Studies, Qualitative Research, and Content Testing. The existing client list includes Pacific Content, Rogers Media, and Westwood One.