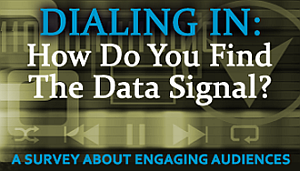 How do broadcasters and webcasters gather and use data about their audiences, and engage those audiences? That is the subject of a research project jointly conducted by Presslaff Interactive and RAIN News, the result of which will be presented at RAIN Summit West, April 17 in Las Vegas.
The survey, Dialing In: How Do You Find the Data Signal? is collecting survey submissions now and is open to anyone in the industry. (Go here to take the 12-question questionnaire.) "We're gathering telling feedback on how broadcasters and pure-plays use data," said Ruth Presslaff, President of Presslaff Interactive. "We're seeing how the industry  collects information, their favorite technologies and their most effective social channels for audience engagement and revenue generation."
The survey is designed to collect information on key data points quickly. Participants can move through the single track of click-to-answer questions without time waste, and there is an optional open field at the end for deeper commenting. The survey gives professionals an outstanding opportunity to shape industry knowledge of tools and priorities. Results will provide vital information on how audio publishers regard the importance of data, and how they are grappling with the opportunity and challenge of engaging, knowing, and retaining their audiences.
"It all contributes to what will be a compelling presentation at the RAIN West Summit, "Ruth Presslaff said. "Your voice should be heard."
HERE is the one-page interactive survey
HERE is the information page about the survey.