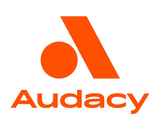 The IAB Newfronts showcase is a staging of presentations by content companies to advertisers. An invitation-only event, the stage is populated by on-screen content companies and giant media enterprises. In this year's event, which is wrapping up four days of presentations today, featured brands included Spectrum Reach, Verizon Media, YouTube, Amazon, and dozens of others.
One audio company claimed a spot in the parade of big media brands: Audacy, the recently renamed radio and podcast giant (formerly Entercom). The distinctiveness of being part of a mainly non-audio showcase was probably worth the price of participation for the company. JD Crowley (Chief Digital Officer and RAIN Summmit speaker) and Ken Lagana (EVP of Digital Sales and RAIN Summit speaker when with Megaphone) anchored the presentation, which also featured a music video.
Ken Lagana walked his audience through basic Audacy talking points: the corporate rebrand; the podcasting enterprise (audacy owns Cadence13 and Pineapple Street Studios); its leadership in sports streaming, and the Audacy mobile listening app (formerly called RADIO.COM).
"An audio universe of discovery and connection," is how Lagana termed it. A sizzle reel was highlighted. He highlighted C13Originals, a podcast production division which creates immersive experiences. Lagana also announced an upcoming relaunch of the Audacy app with what he called "an elevated experience"; he promised exclusive content. Speaking directly to the buying audience, he promised upcoming opportunities for brand partnership "on a very limited basis" — a classic "supplies are limited" pitch.
Interestingly, the second half of Audacy's presentation was a music video from the band AJR, which played its song "Bang!" Judging by the chat window at this virtual event, the audience loved it. (IT was not the song's official video; it appeared to us that AJR recorded a special performance for Audacy.)
.