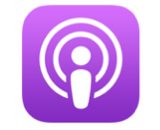 We couldn't help noticing an Apple job listing for Apple Podcasts Manager – Russia, socialized by Ben Cave, Global Head of Apple Podcasts.
The listing for the Moscow-based role starts: "Imagine what you could do here." A few of the job descriptors are:
You love podcasts and audio storytelling more than anything and have an extensive industry knowledge, even beyond your own personal tastes.

Experience in curation and partner relations in the media or entertainment industries.

Ability to manage podcasts as a business end to end and take ownership.
Russia does not appear on Apple's corporate list of countries and regions.
We looked at Apple's podcast chart for Russia. TED is the #1 show, translated to Russian. We also observe several music podcasts — all music podcasts such as Radio Record which produces simple playlists, 30 songs each, packed into a downloadable file. We are not equipped (today) to wade into the licensing and royalty questions presented by a podcast playlist representing an international array of music labels, available for download in the U.S., Russia, and probably dozens of other countries.
"Proficiency in English and Russian is required," the job listing concludes. "Please apply in English to ensure your application can be reviewed."