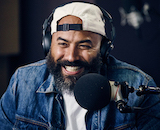 Apple Music and Spotify have been making changes to their streaming services over the years to compete more directly with each other. The latest dig in the rivalry is around hip-hop playlist curation. Apple Music has rebranded its main genre playlist as Rap Life, a change from the previous title of The A-List: Hip-Hop.
The Rap Life playlist will see daily updates and the company's global editorial head of hip-hop and R&B, Ebro Darden, will oversee the team's curation. Apple Music is also adding a Rap Life show to its Beats 1 radio station. The program will feature music and discussions about the genre, taking inspiration from the playlist of the same name.
"Apple Music has worked to uplift Hip-Hop and has earned the respect of the artists and the fans worldwide, so now we going to keep pushing the culture forward with Rap Life," Darden said of the shift. "The playlist was A-List Hip-Hop, but we flipped it to dig deeper into into the lifestyle…pay attention!"
Darden was promoted to his current role at the start of the year. When he spoke about the new role, he indicated that he'd be taking an approach focusing on community.
Spotify has seen great success with its RapCaviar playlist. It has more than 11.7 million followers and the brand has also taken wing as a live concert series. Apple's rebranding and coverage of hip-hop music and lifestyle indicates that it may be looking to keep its own service competitive against Spotify's successes.