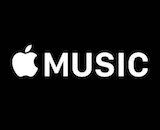 Apple Music has launched a fund to help insure artists get paid during the COVID-19 pandemic. The platform is creating a $50 million advance royalty fund for paying artists through independent record labels. A letter from Apple said that indie labels are eligible if they earn at least $10,000 in quarterly Apple Music earings and have a direct distribution deal with the streaming service.
"These are difficult times for the music industry globally," the letter said. "Livelihoods are at risk, with multiple sources of income that our industry relies on vanishing overnight. Apple has a deep, decades-long history with music, and we are proud to be in close partnership with the best labels and artists in the world. We want to help."
Not only are artists losing their live concerts and tours as a result of the pandemic, but orders to socially distance and stay at home have had a domino chain of negative consequences across the entire music industry. ASCAP recently announced that late payments from licensees have forced it to postpone its April distributions.