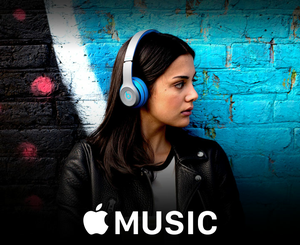 Today brings an announcement that the Apple Music's Android app has emerged from beta. We downloaded and tested the app.
We hoped (unrealistically) that the official Android app might give us a glimpse of a redesign, which has been pre-announced for the fall. No joy on that point — the Android view of Apple's music subscription service looks mainly the same as in an iPhone. The main structural difference in the user experience is removal of the bottom navigation strip, and addition of a standard Android drop-down menu.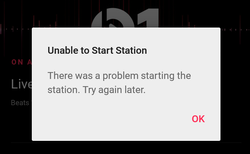 Our experience was bumpy in an unsubscribed Android phone. Apple pushes a three-month trial subscription as a gateway to the interactive portions of the service. When we tried to activate the trial, at least a dozen times, the page did not advance. We received a "Something went wrong" notification. Likewise, we could not play Beats 1, Apple's free-listening online radio station. We could listen in an iOS version of Apple Music, demonstrating that the internet connection was not at fault.
So, an inauspicious bug to start the first day of the non-beta app. But the more important milestone we're waiting for is the redesign.