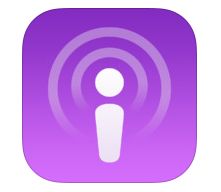 UPDATE: Our review of Siri's performance (see below) in the updated Podcasts app has been contradicted by some readers on Twitter, and in this post's comments. We are convinced that some users have a good experience with the new app.
A hard refresh of our test device did not help the problems we experienced initially. The app refuses to allow downloading of any podcast episode. Multiple crashes have turned into a disturbing record of instability. We are continuing to test, and will update as necessary.
---
Apple upgraded its iOS-native Podcasts app for iPhone, iPod touch, and iPad. The refresh includes various usability improvements. The two major product enhancements are these:
Support for Apple CarPlay
Adding Siri control — Siri is Apple's virtual assistant.
Putting the Podcasts app into CarPlay recognizes the importance of spoken audio content in car listening, and also the growing popularity of time-shifting broadcast programs which are archived as podcasts. The iTunes list of top podcasts is dominated by archived public-radio programs like Wait, Wait, Don't Tell Me and The TED Radio Hour.
Adding Siri control is a nice idea in any situation, and especially important in the car.
Despite the structural enhancements that make sense in theory, in practice we are finding the app essentially broken, and living up (down?) to its 2.5-star review rating in the iOS app store. Many user reviews of the updated app are savage. We were thwarted by frequent app-paralyzing crashes, and the app's stalwart refusal to download selected episodes.
It's sad to report than in a quiet office, where Siri should perform at her best, she was flummoxed and unable to find or play podcast streams and podcast downloads.
We started testing by reading the instructions included in the app update notes: "You can now ask Siri to play podcast episodes by simply saying 'play podcasts.'" Saying that into the app does nothing at all, and we surmised that Apple forgot the instruction to activate Siri in the normal fashion. We did that.
With Siri awake and ready for action, we commanded: "Play podcasts." Her edgy reply: "You don't have any podcasts."
Well, that wasn't true, but to be certain, we checked the download history and found six episodes from the Here's the Thing interview series. One of them featured Debbie Reynolds, and her name was in the episode title. (As mentioned above, the app would not complete any new downloads.)
Here's how the conversation went with Siri:
"Play podcasts."
"You don't have any podcasts."
"Play podcast: Here's the Thing."
"I don't see any podcasts matching Here's the Thing."
"Play podcast: Debbie Reynolds."
"I don't see any podcasts matching Debbie Reynolds"
The conversation continued much longer. We tried every variation on a command that might start a podcast, until Siri became abrupt with us: "You don't have a single podcast!" It was clear she was fed up, and our testing concluded.
We look forward to further updates of the app.