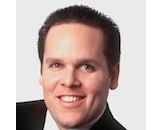 Andrew Kalb is exiting ABC Radio. He has spend 22 years with the broadcaster and was most recently the executive director of programming/news. During his tenure, Kalb was critical in helping to launch the Start Here daily news podcast.
"We reported on the biggest stories in our lifetime. And ABC News Radio has always been the best in the business," Kalb said in a comment to the team. "It was an honor to be part of it."
His exit appears to be related to a restructuring effort at ABC. Radio Ink noted that ABC expects to post job openings for new roles, including an executive producer of podcasting. The new ABC Radio general manager, Stacia Philips Deshishku, sent a note to tthe team about the plans.
"I've been in discussions with senior managers for some time about how we will restructure our audio business to deliver unparalleled service and journalism while taking advantage of new opportunities in podcasting, digital content, and syndicated programming," she said. "I will be asking for input from all of you in the coming weeks as we develop a new vision statement, strategy, and organizational chart that will reflect our working platform."