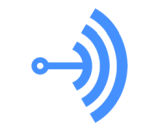 Short-form podcasting app Anchor has added a new feature designed for posting audio to social networks. The mobile app has added a tool to create a video clip with transcriptions of the audio playing. Those videos can be shared to platforms including Twitter, Instagram, and Facebook. A few publishers, included The Verge, where we picked up this development, have been testing the video feature.
Anchor has been steadily adding new features and tools since its 2.0 launch in March. It now offers distribution to Apple and Google, meaning the clips can have a permanent home even after they are deleted from the Anchor app.
Creating audio formats that will perform on social has proven to be a challenge for many publishers. Most networks will give better visibility to posts that keep users within the platform over posts that include external links, such as to a SoundCloud stream or episode download page. Several outlets have explored this concept of an audio/video blend to navigate social networks' restrictions.