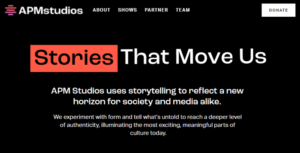 American Public Media has introduced APM Studios with a dedicated website which represents the organization's podcast production division, and its portfolio.
"The portfolio of programs we have at APM is so fantastic that it really needs a master brand that does justice to the work," said Lizzie Breyer Bowman, Managing Director, National Marketing at APM.
Several existing shows are familiar to public radio fans who are into podcasts: Marketplace preeminent among them. Also Make Me Smart (a live-show Marketplace spinoff), The Splendid Table (a radio show archive), Million Bazillion (yet another Marketplace branch), and the children's book show Julie's Library.
"The new outfit solidifies APM's mission to utilize podcasts to tell stories that inspire change through unique perspectives, voices and realities." APM notes in a press announcement. The organizational mission statement includes: "At APM Studios, we're on a mission to break down the boundaries between what we see and what we can imagine."
"Our Purpose: Inspire change by bringing emotion to intellect." –American Public Media
New shows are coming down the pike, but no details are disclosed today outside of this statement: "The studio will specialize in developing and producing podcasts across multiple genres, including kids and family, news and investigative, and personality and lifestyle categories."
APM is in a multi-year strategic collaboration with Cadence13, and Audacy-owned podcast maker.
APM is based in St. Paul, Minnesota.
.